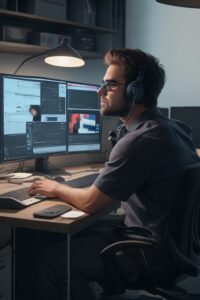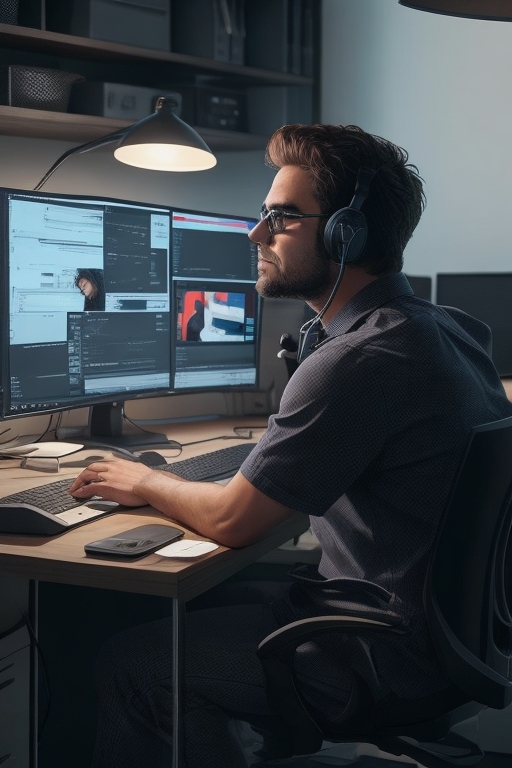 In an era defined by remote work and digital connectivity, the role of a reliable desktop computer in your home office cannot be overstated. While laptops have long been the go-to for professional mobility, the rise of remote work has sparked a resurgence in the appeal of desktop computers. With the luxury of a dedicated workspace at home, you can now invest in a more robust setup that offers enhanced power and flexibility. If you're on the lookout for the ideal desktop computer to elevate your work-from-home experience, you're in luck. This article explores a range of options across various price points, ensuring you find the perfect match for your needs.
Best Business Desktops
When it comes to business-class desktops, the emphasis lies in equipping you with solid tools that foster seamless networking, video conferencing, and audio presentations. While creative workstations exist for specialized needs, most professionals require a reliable machine for meetings, presentations, and remote desktop operations.
A standout choice in this category is the Dell OptiPlex series. With expandable options for memory and storage, the OptiPlex offers a sturdy foundation for tasks like video conferencing with custom backgrounds or delivering audiovisual presentations. Its price point, a little over $1,000, strikes an excellent balance between affordability and productivity, making it an optimal choice for those unwilling to compromise on performance.
We're talking solid tools for networking, video, and audio – the trifecta of remote work success. Unless you're creating Hollywood-level soundtracks, the OptiPlex has your back. You'll be rocking those online presentations like a pro. So, when it comes to a desktop that's got the right moves for your work-from-home hustle, the Dell OptiPlex is your partner.
Remember, when you're ready to say goodbye to glitchy video calls and hello to seamless remote work, the OptiPlex is waiting in the wings. 
Best Budget Desktops
For budget-conscious individuals seeking a desktop that doesn't skimp on quality, the Acer Aspire series stands tall. With a consistent price point of just above $500, Acer has maintained its reputation for offering reliable hardware updates over the years. While not geared for complex tasks, the Aspire serves as an excellent option for tasks such as digital coursework, call center duties, and basic productivity applications. If your work demands simplicity and cost-effectiveness, the Acer Aspire might just be your perfect work-from-home companion.
Now, let's be real – if you're not building rockets or editing blockbuster movies, you don't need all the bells and whistles. The Acer Aspire gets that. If your work-from-home routine involves more spreadsheets than special effects, the Acer Aspire is basically your work buddy.
You're not dropping big bucks, so you can't expect the moon and stars. If you're the type who needs superpowers for super tasks, you might need to look elsewhere. But if you're all about straightforward tech that gets you through the 9-to-5 grind, the Acer Aspire is the budget champ that'll have you covered.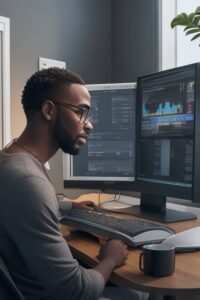 Best All-in-One Desktops
The all-in-one desktop category presents an enticing proposition: a computer that caters to both work-related tasks and leisure activities. This becomes especially relevant when investing in a remote work setup that doubles as a gaming hub or home theater system.
Ever dreamed of a desktop that can pull off a killer presentation in the morning and run your gaming marathon at night? Say hello to the Dell XPS. This all-in-one genius has got the smarts for business and the muscles for gaming. But hang on, if you're not looking to empty your bank account on a tech masterpiece, we've got the Lenovo IdeaCentre. It's a budget-friendly computer that grants works for both work and leisure.
But these all-in-one dreams don't come cheap. If you're aiming for the top-tier specs and ready to drop some serious cash, the HP Envy 34 steps into the arena. But we're talking about a one-box wonder that's ready to rock your world, work-wise and play-wise.
Best Mini Desktops
Mini desktops have emerged as a game-changer, combining the performance of traditional towers with a smaller footprint. These devices provide a valuable alternative to laptops for professionals who need a reliable setup for both home and office use. The MSI Pro, with its minimalist design and efficient performance, shines as a prime example. Its unobtrusive presence ensures it seamlessly integrates into your workspace, ready to deliver desktop power whenever you need it.
Do you want a desktop that's small enough to fit anywhere, yet strong enough to handle your workload? That's where the MSI Pro steps up to the plate. And here's the kicker – it won't hog up your space.
But mini desktops do have their limits. They won't replace your laptop for on-the-go action, and they won't give you a built-in screen. So, if you're all about that laptop convenience, these might not be for you
But if you've got a dedicated workspace and want a desktop that's compact without compromising on power, the MSI Pro is like your pocket-sized assistant that's ready to rock your work-from-home world.
The importance of a well-equipped home office becomes increasingly evident. Whether you're diving into business-class productivity, seeking an affordable solution, craving the versatility of an all-in-one, or valuing the compact power of a mini desktop, the market offers an array of options to cater to your unique requirements. The era of the work-from-home powerhouse has dawned, and with the right desktop computer at your side, you're primed to conquer both your professional tasks and leisure pursuits with unrivaled efficiency.